EPR Authorisation for Plastic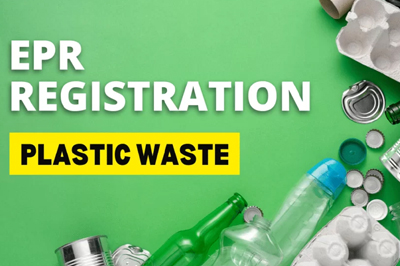 EPR REGISTRATION for Plastic Waste Management: Plastic products have become an essential part of our daily lives. It is produced on a massive scale all over the world. Plastic waste is generated at approximately 5.6 million tonnes per annum (TPA) in India. Its disposal is a significant issue. Recycling is a good way to reuse plastic products but finding a way to eliminate plastic is important.
---
To ensure the processing of plastic packaging waste, the Extended Producers Responsibility (EPR) regime is being implemented in the Plastic Waste Management Rules, 2016. According to which, Producers, importers, and brand owners are responsible for ensuring that their plastic packaging waste is processed through recycling, re-use, or end-of-life disposal.
PIBO refers to producer, importer and brandowners. If you identify as a PIBO and have operations in India that include the use of plastic packaging, you fall under the obligation of EPR regardless of your turnover or scale of operations.
---
Let's understand Extended Producer Responsibility:
---
Extended Producers Responsibility means the responsibilities of Producers for the environmentally sound management of the product until the end of its life.
Extended Producer Responsibility for Plastic Packaging is the responsibility of Producers, Importers & Brand Owners for the management of their plastic packaging waste.
The Ministry of Environment, Forests, and Climate Change, Government of India, notified an amendment to the PWM Rules on February 16, 2022, according to which producers, importers, brand owners (PIBOs), and Plastic Waste Processors shall comply with Extended Producer Responsibility as per Guidelines given in Schedule II of PWM Rules.
According to EPR guidelines for plastic packaging, Producers, Importers, Brand-Owners, and Plastic Waste processors shall have to register through the centralized online EPR portal developed by the Central Pollution Control Board (CPCB). PIBOs shall have to obtain EPR Registration for Plastic Waste Management from CPCB.
---